It's the end of the week, and as per usual, I'd like to share with you some free games! Today I'm specifically interested in writing about free mobile games. Not just any free games though, since there are a lot to choose from, but some of the best there is thus far. I've picked out just ten of the best, instead of creating a ginormous list. So get ready to pull out your phones and start downloading!
#1 Hearthstone: Heroes of Warcraft
IMAGE FROM BATTLE.NET
This list is in no particular order, but Hearthstone still isn't a bad one to top the list. This is a top-rated collectible card game for your phone. This game is not only available for Android, but also iOS, Mac, and Windows. Earlier this year it was reported there are 70 million players of the game and it has become a favorite eSport! Hearthstone has won multiple Mobile Game of the Year awards and has excellent reviews. It's about time you checked it out!
---
#2 Clash Royale
IMAGE FROM DAILY MOTION
Clash Royale is a strategy game available for iOS and Android. This game combines several genres including a collectible card game, multiplayer online battle arena, and tower defense. Clash Royale has won a handful of awards as well, including The Small Screen Game of the Year. The reviews are great, but the big complaint is how the game encourages players to make in-app purchases out of anger. Those tricky businessmen!
---
#3 Fallout Shelter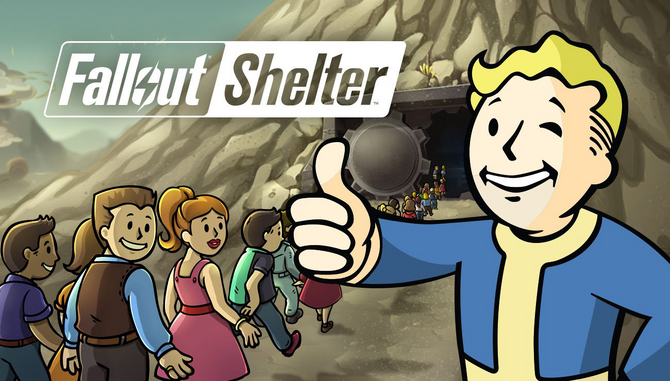 IMAGE FROM FALLOUT WIKI
Fallout Shelter is a simulation game available for iOS, Android, Windows, and even Xbox One. This Fallout spin-off game is much different than it's role-playing cousins but very fun. It has won awards, notably Best Mobile Game and Mobile Game of the Year. The reviews are a little mixed, probably because this is one of those games that requires some downtime (aka sit and wait).
---
#4 Final Fantasy: Brave Exvius
IMAGE FROM GAME-NEON
A Final Fantasy role-playing game that is available for iOS and Android. This game has been downloaded over 5 million times, making it quite popular! The reviews are 4.6/5 for both the Google and iTunes stores. This is turn-based, single player game that is a spin-off from the original Final Fantasy series.
---
#5 Plague Inc.
IMAGE FROM YOUTUBE
Plague Inc. is a real-time strategy and simulation game for iOS, Android, and Windows Phone. There are also Windows, Mac, and Linux version titled Plague Inc: Evolved. In this game, you control the Plague itself and try to take out the world, among other possible goals (such as zombification of the world). This game has been downloaded over 85 million times and won IGN's Overall Best Strategy Game for 2012. There is even a board game that was released this year titled Plague Inc: The Board Game.
---
#6 Fire Emblem Heroes
IMAGE FROM INSIDE-GAMES.JP
Fire Emblem Heroes is a tactical role-playing game for iOS and Android. It is a spin-off of the Fire Emblem series. In the game, you are on a grid map where you can summon Fire Emblem characters to compete as a team against opposing enemies. You can play against other players or work through the storyline. This is a viral game and has positive reviews. It was even the third most popular game in Japan the day of its release.
---
#7 Futurama: Game of Drones
IMAGE FROM ANDROID POLICE
Futurama: Game of Drones is a puzzle game only available for Android and iOS. What's great about this puzzle game is not just the Futurama theme but also a Futurama story in comic book form. This is an excellent game for all us Futurama lovers out there. This game is ranked with a 4.5/5 in the Google Play store and a 4.4 in the iTunes store.
---
#8 Asphalt 8: Airborne
IMAGE FROM REXDL
Asphalt 8: Airborne is a racing game available for Android, iOS, Windows 8, Windows Phone 8, Blackberry 10, and Tizen. Guess they wanted to make sure no phone user was left out! This mobile racing game has impressive reviews and is praised as a leading game in the genre. Lovers of the racing genre praise this game very highly and think it's a pinnacle of the Asphalt series.
---
#9 Psych! Outwit Your Friends
IMAGE FROM WONDERMOM WANNABE
Psych! Outwit Your Friends is a word/trivia game available for Android and iOS. This game is some type of Balderdash-Trivial Pursuit mashup in my opinion. How you play the game is each friend makes up a ridiculous answer to a question. It's your job to pick out the absurd answer that is actually correct, instead of your friends. Though, sometimes it's vice versa of course (you make up the wrong answer). This is great social game to play with your friends and has great ratings. Specifically a 4.4 in the Google store and a 4.8 in the iTunes store.
---
#10 Super Mario Run
IMAGE FROM DAILY EXPRESS
Super Mario Run is a side-scrolling, auto-runner platformer game that is exactly like its early predecessors. The game is available for iOS and Android. There is more than one game mode offered to add some interest. Super Mario Run has a lot of positive reviews. It's addictive and has a good replay value. Some downfalls to this game are that it always needs an internet connection to play and it's not free after a certain level (boo! hiss!).
Click here to read Lilo Nash's profile
DISCLAIMER: THE VIEWS AND OPINIONS EXPRESSED IN THIS POST ARE SOLELY THOSE OF THE AUTHOR. THESE VIEWS AND OPINIONS DO NOT NECESSARILY REPRESENT THOSE OF SALJACK ENTERPRISES, ITS STAFF, AND ANY/ALL CONTRIBUTORS TO THE SALJACK ENTERPRISES WEBSITES. SALJACK ENTERPRISES MAKES NO WARRANTY OR REPRESENTATION REGARDING, DOES NOT ENDORSE, IS NOT AFFILIATED WITH AND IS NOT IN ANY WAY RESPONSIBLE FOR THE LINKED WEBSITES OR ANY CONTENT THAT APPEARS ON IT. IF YOU DECIDE TO VISIT ANY LINKED WEBSITE, YOU DO SO AT YOUR OWN RISK, AND IT IS YOUR RESPONSIBILITY TO REVIEW THE TERMS OF USE OF THE RELEVANT LINKED WEBSITE.