Hey, everybody! I'm excited to share news of a new game coming out soon. There is no specific release date set for this game though. We will have to wait with bated breath for this upcoming game that is no doubt going to be a beauty.
Back in 2012, a game called Journey hit the scene for the PlayStation 3 (it was also later released in 2015 for PlayStation 4). This game was new and exciting and managed to snag very high reviews. It is considered an adventure and art game. It truly is a beautiful game, not only because of the visuals but also the amazing soundtrack that was uninterrupted by game play.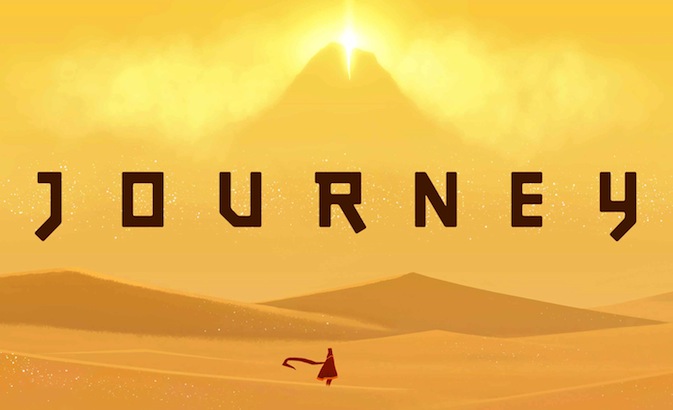 IMAGE FROM WIKIA
In Journey, you play as a robed figure who moves through the world towards a distant mountain. While traveling, you can find old pieces of cloth that add to your scarf and give you the ability to float for extended periods of time. During your journey, you can come across other people playing the game online. You can choose to travel together and help each other out. However, the only form of communication possible is a chiming noise you can each make.
Journey has won several 'Game of the Year' awards and has been listed as one of the best games of all time. It was the fastest selling game in the PlayStation Store to date when it was released. It won 8 awards at the D.I.C.E. Awards. Journey was also the first video game to be nominated for Best Score Soundtrack for Visual Media at the 2013 Grammy Awards.
I personally missed out on playing this game since I was an Xbox player at the time and this game was only ever available for PlayStation 3 and 4. However, there was so much hype surrounding it I did actually sit down and watch the entire game be played on youtube. Here is the trailer to give you a taste:
I think this is a great game to watch, especially since the game is only on PlayStation and therefore a whole bunch of us can't play it. I really enjoyed watching the game and if you think you might be interested then give it a try! The entire game walkthrough is only one hour and seventeen minutes.
The company that developed Journey–Thatgamecompany–has made two other games that came out before Journey. They are Flow (2006) and Flower (2009). Flow is the only game of theirs that is available on more than one platform. You can actually play this game for free on your PC. In Flow, you play a segmented aquatic worm through the sea. It is a simple 2D game with a top-down view. There is no menu–the game just starts right away, and you move around.  Here is where you can play the game for free.
IMAGE FROM IGN
Their next game, Flower, is only available for PlayStation 3, 4, and Vita. In this game, you go into the dream of a flower where you can control the wind. The aim is to move a single petal around.
IMAGE FROM SPAZIOGAMES
However, they have not come out with another game since Journey. A shame, really. Until now that is. Thatgamecompany has just announced that they have been developing a new game called Sky. Check out the teaser trailer:
This game so far looks very similar to Journey. Why ruin a great thing? I feel calmer just watching that teaser. These games feel like a meditative guide. Which is a very nice switch up from the adrenaline pumping fast games out there.
The big thing you should know about this game is that it is only coming out for Apple TV, iPhone, and iPad. That is really frustrating to me as someone who missed Journey and has never owned an Apple product. In a tweet, Thatgamecompany used the phrasing that the game was first coming to Apple products. Now, they didn't mention any other platforms, but I'm hopeful this means they–at the very least–want their game on other platforms. Considering how well Journey did, I can't imagine other platforms not wanting to sell Sky.
Sky is regarded as a multiplayer game. Up to eight players can connect online to explore together. The multiplayer aspect in Journey was more low-key. You could play the entire game without coming across another person. However, people really enjoyed the anonymous multiplayer that was offered. It was a new experience where you form a connection with someone without any idea who they are and without the ability to communicate. For some, this was the most meaningful part of the game. I think it's a very good idea that they expanded on this for their new game, Sky.
Sky is designed to have simple controls. Actually, the entire game can be played with one finger using the Siri Remote. Which brings me to the topic of the Apple TV. It is a game console, among other things. Apple sometimes seems to think about ramping it up as an alternative to PlayStation and Xbox–a cheaper alternative. However, they have yet to snag a sizable amount of good games to offer.
---
Click here to read Lilo Nash's profile
DISCLAIMER: THE VIEWS AND OPINIONS EXPRESSED IN THIS POST ARE SOLELY THOSE OF THE AUTHOR. THESE VIEWS AND OPINIONS DO NOT NECESSARILY REPRESENT THOSE OF SALJACK ENTERPRISES, IT'S STAFF, AND ANY/ALL CONTRIBUTORS TO THE SALJACK ENTERPRISES WEBSITES. SALJACK ENTERPRISES MAKES NO WARRANTY OR REPRESENTATION REGARDING, DOES NOT ENDORSE, IS NOT AFFILIATED WITH AND IS NOT IN ANY WAY RESPONSIBLE FOR THE LINKED WEBSITES OR ANY CONTENT THAT APPEARS ON IT. IF YOU DECIDE TO VISIT ANY LINKED WEBSITE, YOU DO SO AT YOUR OWN RISK, AND IT IS YOUR RESPONSIBILITY TO REVIEW THE TERMS OF USE OF THE RELEVANT LINKED WEBSITE.